Calendar: Humanity's epic struggle to determine a true and accurate year (Avon/Harper Collins)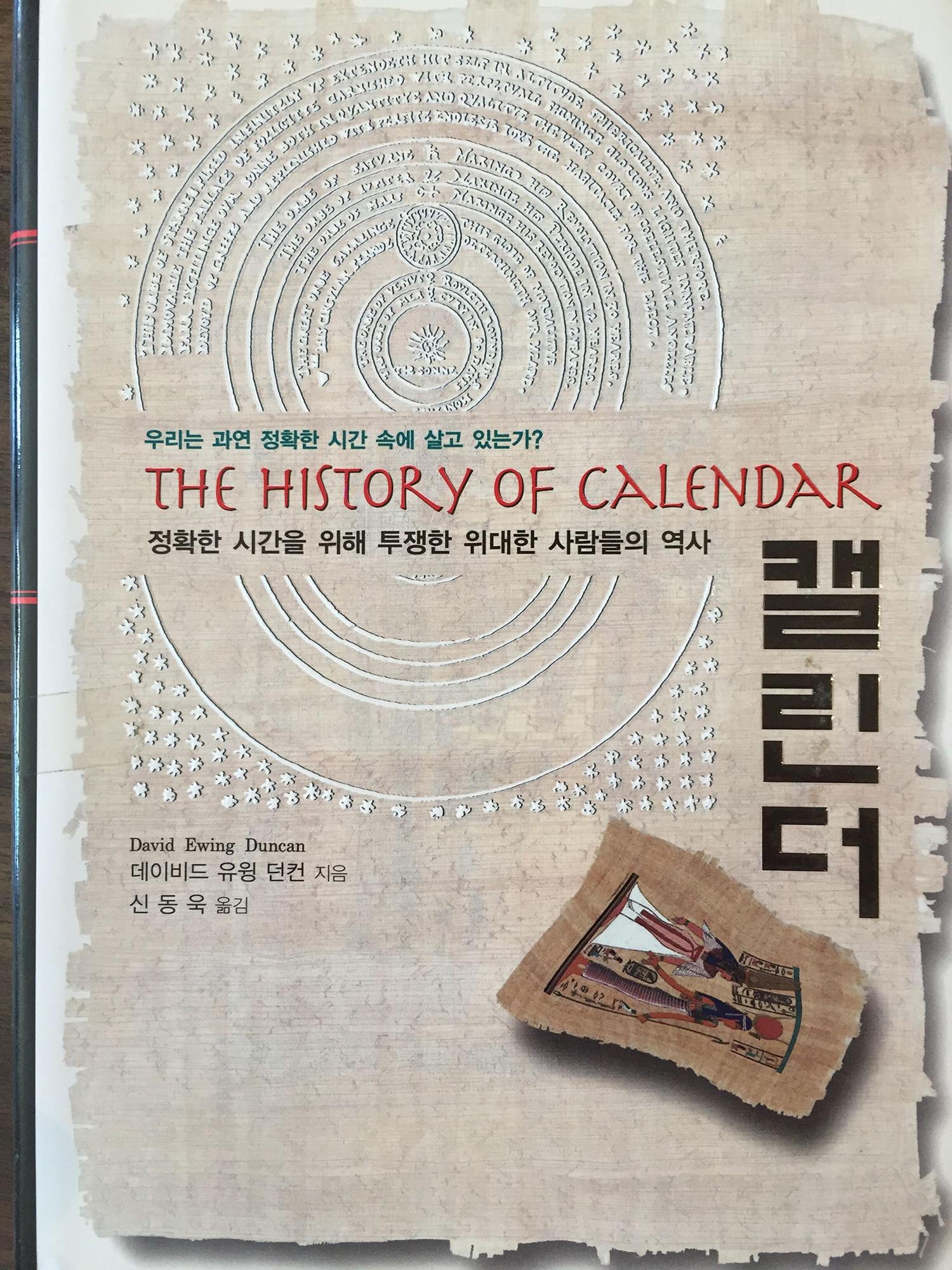 Korean Language Version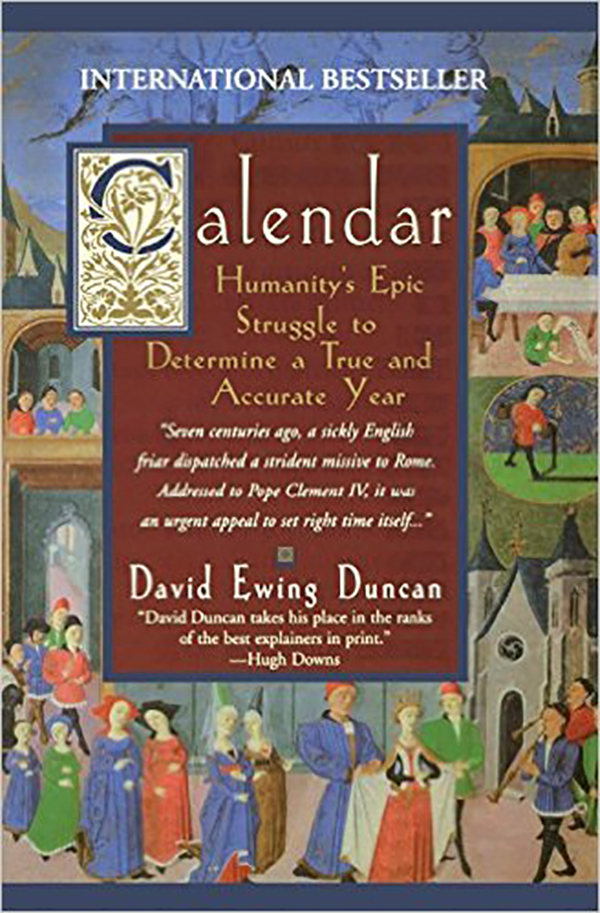 U.S. Edition
Calendar: Humanity's Epic Struggle to Determine a True and Accurate Year
Avon/Harper-Collins (USA)
International Bestseller in 14 countries, published in 22 Languages
"Calendar sparkles… Gripping, expansive and scholarly, it will be indispensable reading for years to come. Duncan has achieved a rare feat in turning something ordinary into an extraordinary metaphor of life." – Amanda Foreman, The Observer (U.K.)
CALENDAR was a selection of the Book of the Month Club and the History Book of the Month Club. First serial: Smithsonian (US), The Saturday Telegraph (UK).
Featured in the UK as a 5-part radio series on BBC Radio, narrated by Derek Jacobi
David on ABC Nightline as correspondent and producer of: "The Calendar and the Millennium", aired January 1, 1998
---
Sampling of Media
NPR's All Things Considered, Interviewed by Daniel Zwerdling, "World Calendars"
NPR's All Thins Considered, interviewed by Robert Siegel, "Calendar Reform"
Another Brief History of Time, by Paul Murdin, Daily Telegraph (UK)
---
Related Articles Written by David
Calendar, Smithsonian, January 1, 1999
The Calendar, Daily Telegraph, August 6 1998
---
Selected Reviews and Comments
"An astonishing book." Le Figaro (Paris)
"Duncan writes the way good teachers teach, conversational, yet informed… [he] is a popularizer and storyteller…" – Bob Minzesheimer, USA Today (Editor's Pick)
"Forget Stephen Hawking: The Calendar is a brief history of time that we can all understand and enjoy." – William Hartston, The Independent (U.K.)
"In this finely researched book, David Ewing Duncan chronicles how mankind has gradually moved towards a common calendar... Mr. Duncan brilliantly evokes the more philosophical tensions within Christianity about the nature of time." – The Economist
"David Ewing Duncan's The Calendar is a charming and well-written ramble through history... We encounter heroes and villains, popes and emperors… He breathes life into numerous nearly forgotten historical figures… a good read…" – Kristen Lippincott, The Times of London
"As the new millennium approaches, this fine book will prove to all readers that the establishment of a consistent and useful calendar is no dull work of drones and bean counters, but one of humanity's greatest achievements and the embodiment of our cultural history and progress." – Stephen Jay Gould
"…a remarkable new book by David Ewing Duncan, describes the long search for an accurate calendar and how, over tortuous centuries, science and religion poked and pinched into existence the one we still use." – Timothy Foote, Smithsonian Magazine
"David Ewing Duncan has written a fascinating book, spelling out a highly complex subject with a minimum of jargon." – Bill Maxwell, The Irish Times (Dublin)
"David Duncan's book… is more than just timely… he illuminates a grand quest that lies close to the very heart of science… Though Duncan's research shows itself in every chapter, it's his clear and lively descriptions of people and places that hold the reader." – Dan Falk, Toronto Globe and Mail
"Duncan is a master at weaving together various threads and anecdotes… He sketches out fascinating characters… By using a tiny thread to guide us through ages, cultures and religions, Calendar is a fascinating exploration of the history of ideas – and a chance to reflect on the exact nature of the little grid of boxes that rules so much of our lives." – Minal Hajratwala, San Jose Mercury News
"Among human inventions, few have required the contributions of more minds across more millennia than the calendar…Lively and fascinating… Involving a surprising number of subplots, Duncan's story resonates not only with the cool rationality of astronomers… but also with the unruly passions of royal lovers whose risky liaison brought Egypt's calendar to Rome…" – Booklist
"Duncan provides vivid portraits of the various figures who played roles in this process and of their time. A fascinating cross-section of history." – Kirkus Reviews
"How [our] calendar came into being is the central story of David Ewing Duncan's book, Calendar. Julius Caesar's calendar, the Julian Calendar had calculated the year at 365 and ¼ days. It was off by about eleven minutes, and by the middle ages those eleven minutes had added up to more that a week…" – Host Robert Siegel interviewed David Ewing Duncan July 14, 1998 on NPR's All Things Considered (Click to hear interview)
"This engaging volume is an account of the human grasp, measurement and use of time. It is comprehensive and detailed, yet enthralling in the way the history is told and the technical aspects explained. David Duncan takes his place in the ranks of the best explainers in print." – Hugh Downs
"Absorbing…extensively researched…this accomplished interdisciplinary work will appeal to all readers tyrannized by the date book." – Publishers Weekly
"…excellent… fascinating… By A.D. 4909 [the calendar] will be one day ahead of the true year. A pity Duncan won't be around to write about that as informatively and entertainingly as he has covered the calendar to date." – Fordyce Maxwell, The Scotsman
"…highly readable… wonderful…" – Focus (U.K.), * * * * (4-stars, highest), "Book of the Month"
"The story about our age-old efforts to stay in step with the clock-like movements of the moon, sun and stars is funny and sad, dramatic and comical, and David Duncan tells it beautifully, even poetically. This book is as irresistible as the flow of time itself." – Dr. Michael Guillen, ABC News
"Tonight, we're going to examine the previous thousand years of history and look ahead to the next thousand years. It's a lot to handle and still get off the air on time…" – Aaron Brown, Host, ABC Nightline, "The Millennium"
"Veteran science and travel writer Duncan has assembled a lively history dating back 13,000 years to the first known timetable of the attempt to follow our exact place in the whirl of days, lunar cycles, seasons, and years." – Outside Magazine
"From Caesar's reform to the cesium oscillator, Duncan's engaging story of how we fabricated time weaves precise science with the threads of human concern the very side of the coin of conflict that gave rise to the calendar as we know it today." – Anthony Aveni, Professor of Astronomy, Colgate University
---
Excerpts from the Book
"From the earliest recorded date (4236 B.C.), people have tried to organize their lives according to the movements of the sun, moon and stars--and have, for the most part, consistently gotten it wrong. In this irresistible volume, David Ewing Duncan takes us on an extraordinary journey through man's reckoning of time, ranging from one of the earliest calendars (a series of markings gouged into an eagle bone 13,000 years ago) to the atomic clocks of today, which measure time too well for an ever slowing Earth."
"The adventure spans the world from Stonehenge to astronomically aligned pyramids at Giza, from Mayan observatories at Chichen Itza at the atomic clock in Washington, the world's official timekeeper since the 1960s. We visit cultures from Vedic India and Cleopatra's Egypt to Byzantium and the Elizabethan court; and meet an impressive cast of historic personages from Julius Caesar to Omar Khayyam, and giants of science such as Galileo and Copernicus. Our present calendar system predates the invention of the telescope, the mechanical clock, and the concept of zero--and its development is one of the great untold stories of science and history."
"How did Pope Gregory set right a calendar which was in error by at least ten full days? What did time mean to a farmer on the Rhine in 800 A.D.? What was daily life life in the Middle Ages, when the general population reckoned births and marriages by seasons, wars, kings' reigns, and saints' days? In short, how did the world ever come to agree on what day it was? As our personal clocks tick faster and time becomes more precious each day, as we move toward the mathematically awesome threshold of a new millennium, here is a fresh, stimulating volume that answers--and raises--a host of fascinating questions about the nature of human timekeeping and the majestic historical forces that have produced the miracle of the calendar."