The Voyage of Sorcerer II: The Expedition that Unlocked the Secrets of the Ocean Microbiome, co-authored by J. Craig Venter (Harvard University Press)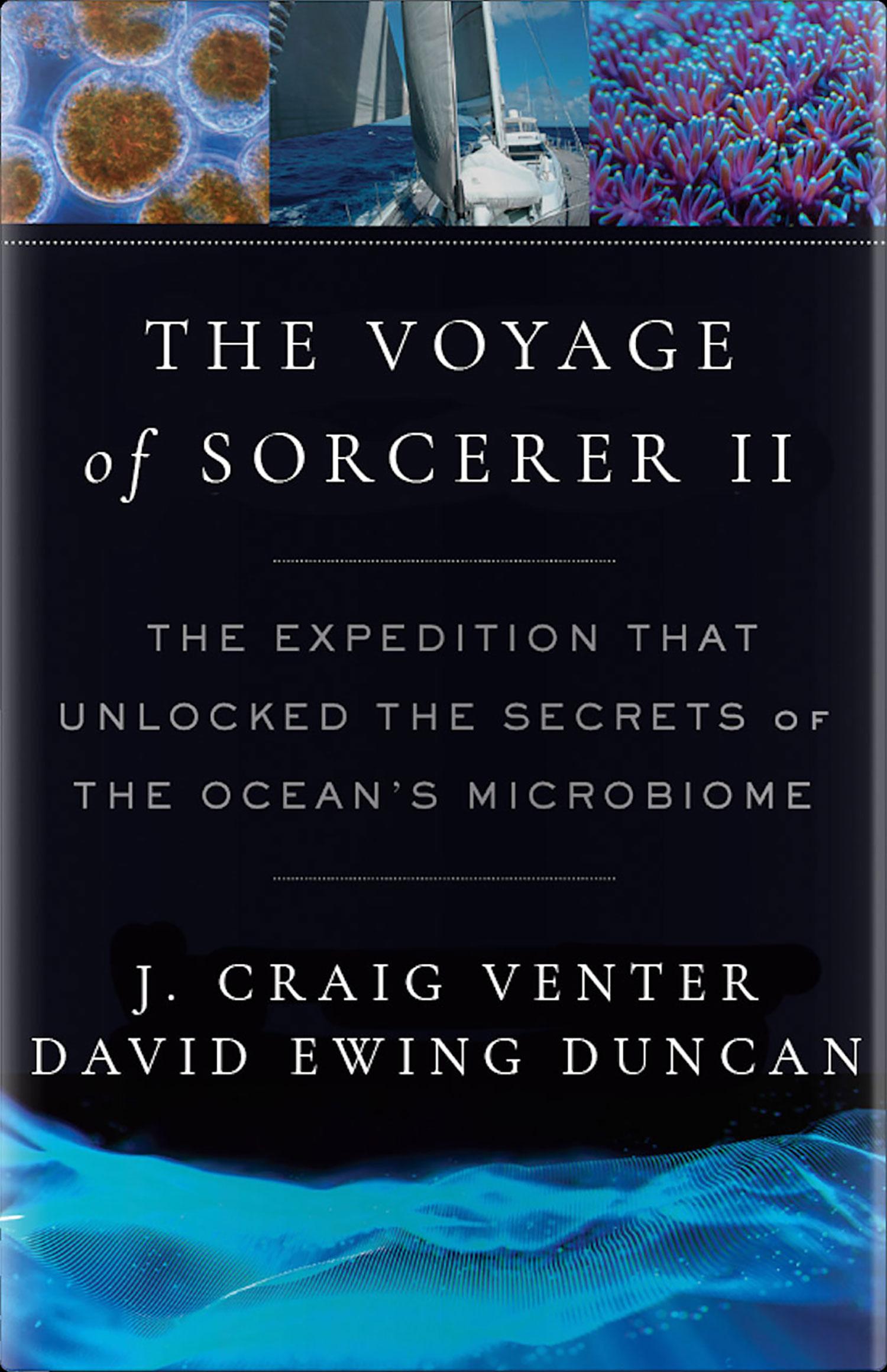 Advance Praise
"An epic travelogue, brimming with the excitement of discovery. With characteristic panache, Venter unveils the teeming array of bacteria, viruses, and eukaryotes that crowd our planet's oceans. His research will undoubtedly shape our understanding of the global ecosystem for decades to come." – Siddhartha Mukherjee, Pulitzer Prize–winning author of The Emperor of All Maladies
"An exhilarating account of how creative science is accomplished. Few would guess just how many microbes live with us and how much they contribute to human health, both directly in our bodies and by making sure the air we breathe supports life. I have always loved bacteria, but after reading this I have an enhanced appreciation of their value to life on this planet. I highly recommend it." – Sir Richard J. Roberts, winner of the Nobel Prize in Physiology or Medicine
"The Voyage of Sorcerer II combines panoramic linguistic imagery with trenchant scientific insights to provide the reader a virtual seat aboard the most important ship of discovery since Darwin's Beagle. This page-turner gives each of us the thrill of seeing our planet's largest universe through the brilliant, intrepid eyes of the scientist who has done more than anyone to unlock the secrets of life." – Martine Rothblatt, founder and CEO, United Therapeutics
"A tour de force. Following in the paths of the Beagle and the Challenger, Venter has expanded biology's horizons. This book explores microbial life on a global scale, providing cutting-edge solutions to problems of environmental change."  – Aristides Patrinos, Chief Scientist and Director of Research, NOVIM
"A fascinating inside look at Venter's historic expeditions that makes the experiences, the analysis, and the transformative discoveries come alive." – Margaret Leinen, Director, Scripps Institution of Oceanography, University of California, San Diego
---
About the Authors
J. Craig Venter is founder, Chairman, and CEO of the J. Craig Venter Institute, a nonprofit research organization. He is cofounder of the biotechnology companies Celera, Synthetic Genomics, and Human Longevity, Inc. A member of the National Academy of Sciences, he has received numerous public honors and scientific awards, including the US National Medal of Science.
David Ewing Duncan is an award-winning science journalist. A contributor to Wired, Vanity Fair, the New York Times, National Public Radio, ABC News, The Atlantic, and National Geographic and the bestselling author of eleven books published in twenty-one languages, he was founding director of the Center for Life Science Policy at the University of California, Berkeley.
---
Description of Book
Summary: An epic science and adventure story about famed geneticist Craig Venter's voyages from 2003 to 2018 in a 100-foot sailing and research vessel that collected microbes from all over the world. These expeditions, working with hundreds of collaborators in dozens of countries, revolutionized our understanding of this invisible world—one that Homo sapiens are now altering as climate change threatens to upset the fine-tuned equilibrium of micro-life that sustains us.
Description: You've heard of the human microbiome. Did you know the Earth has one, too? In total, our oceans, soil, sky, plants, and animals are home to 5x1030 (five million trillion trillion) microbes—more than the number of stars in the universe. They are the true masters of our planet, and undergird and sustain all life, including us. The Voyages of Sorcerer II is the story of this invisible world.
Microbes are the most abundant organisms of Earth, and yet as late as 2002 microbiologists had studied less than 2% of the bacteria in nature. In an effort to understand the tiniest forms of life, J. Craig Venter—shortly after he sequenced the first human genome—boarded Sorcerer II, his 100-foot sailboat turned research vessel to take samples of ocean water and the organisms that live in it. Over the course of 15 years he traveled 75,000 miles and sequenced millions of new-to-us genes, thousands of previously unseen protein families, and new lineages of bacteria that reveal a far greater complexity to life on earth than was ever thought possible. These findings could lead to alternative sources of energy, medicines, and food. The work of Venter and colleagues around the worlds have also helped reveal the alarming rate at which climate change caused by people is disturbing the delicate balance of our planet's microbiome in ways that will not be healthy for the ecosystem that supports life as we know it. Craig Venter and science writer David Ewing Duncan also suggest that this treasure trove of microbes might help to fill in gaps in our understanding of the origins and the evolutionary history and of the future of life on Earth.