Masterminds: Genius, DNA, and the Quest to Rewrite Life (William Morrow/Harper Perennial)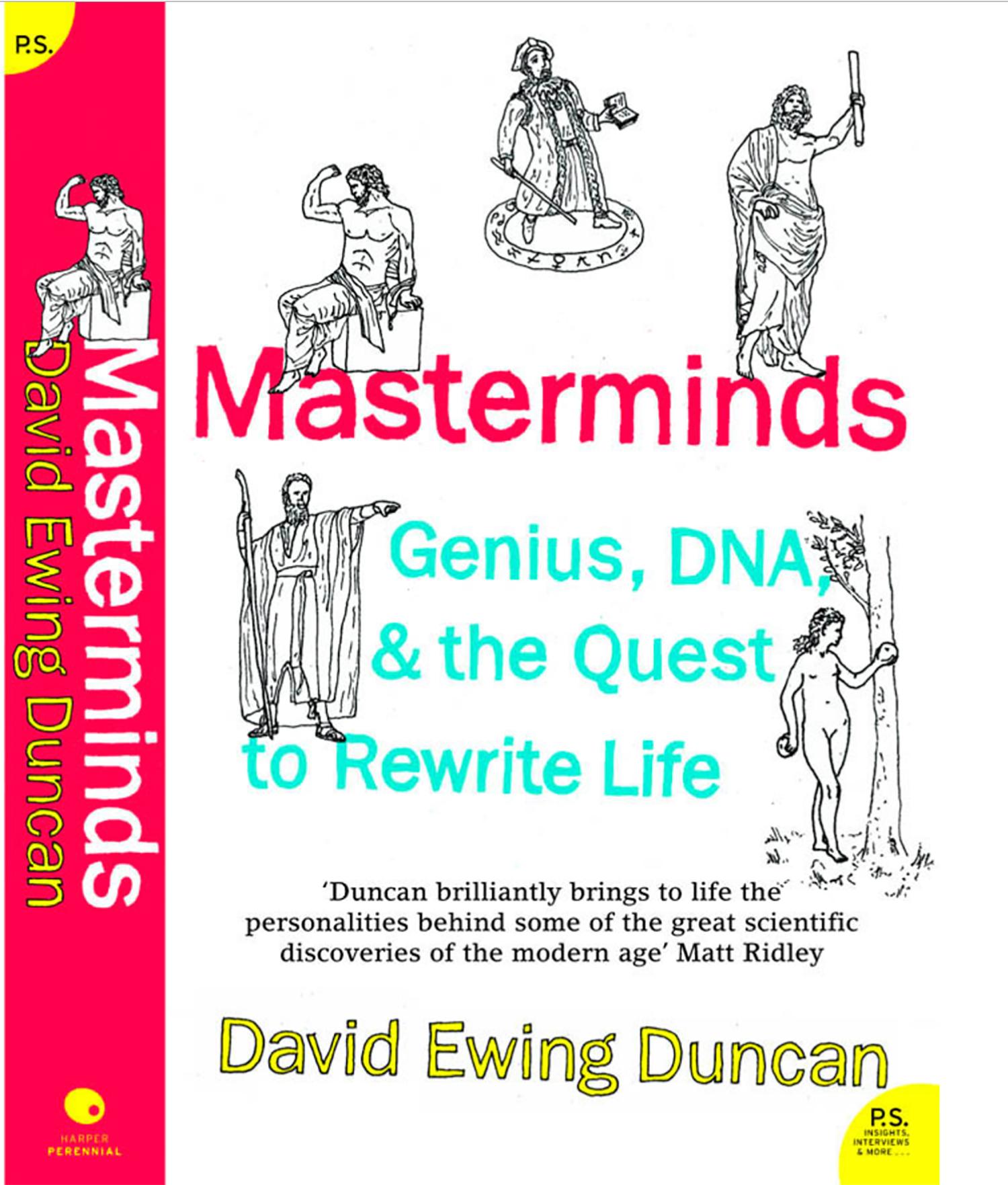 U.K Edition

U.S. Edition
Masterminds: Genius, DNA, and the Quest to Rewrite Life
William Morrow/Harper Perennial
"A Best Book of the Year" – San Francisco Chronicle
"...vivid, memorable portrayals of the scientists working on biology's most fascinating frontiers." – James Fallows, Atlantic Monthly
---
Sampling of Media
David on NPR's Morning Edition with Renee Montaigne
Article in the San Francisco Chronicle, by Rebecca Maksel
Article in The Sunday Telegraph (UK) by Adrian Woolfson
David on Michael Krazny, KQED Radio, San Francisco
---
Selected Reviews and Comments
From the William Morrow catalogue:
A highly original form of storytelling combining myth, biography, and the wit of Oliver Sacks, this is a depiction of cutting-edge science and its profound implications told through the personalities of scientists who are rewriting life on earth.
Throughout history, the outsized personalities of scientists have astonished us with their brilliance and audacity. From Galileo to Jonas Salk, they push society into new realms with great leaps of inventiveness and originality, providing us with everything from the wheel to rocket ships and penicillin. Today's masterminds in biotechnology promise lifespans up to 400 years; cures for cancer; and an end to pollution. But these masterminds could also produce unintended nightmares – bioengineered lifeforms that run amuck, bioweapons, social upheavals. Which will it be: heaven or hell, or both, or neither?
For three years, award-winning writer David Ewing Duncan has interviewed over 600 people, and spent time with masterminds that include James Watson, Sydney Brenner, Paul Berg, Francis Collins, Craig Venter, Cynthia Kenyon, and others. He has written an inventive narrative about science and personality, delving into stem cells, cloning, bioengineering, and genetics by telling the stories of the characters at the fulcrum of the science. He uses a unique method of tying in age-old stories and myths -- Prometheus, Faustus, Eve, and Frankenstein -- to ask the question: can we trust these scientists?
Duncan thinks we can, but society must closely watch them and their work; also, both scientists and the public must make more of an effort to publicly discuss and understand each others points of view. Duncan has attracted international attention for his column "Biotech and Creativity"; and for his writings and NPR commentaries. He makes a powerful case that this is the most important story of our time, perhaps of all human history – that a species has the power to self-evolve.
Selected Reviews and Comments
"Duncan turns a scarily bright light on the exploding frontiers of biotechnology and genetic engineering, from stem-cell research to cloning to finding cures for deadly diseases." — Vanity Fair
"Duncan turns his discerning eye toward the role of personality in science…remarkable profiles…Duncan's prose is lively and engaging…" — San Francisco Chronicle
"Duncan argues that personality plays a pivotal role in what scientists do. Not content to merely profile these prominent researchers, he connects each one to a figure from literature, history or mythology…The connections work well…" — The Washington Post
"His profiles are well drawn, lively and personal, and the scientists are variously enthusiastic, remarkable, intimidating and compelling." — The Independent
"…vivid, memorable portrayals of the scientists working on biology's most fascinating frontiers. I learned a tremendous amount from this book – and enjoyed every chapter." — James Fallows, Atlantic Monthly
"Rather then speculating about the future in a more conventional way, David Ewing Duncan, in his charming and often amusing book uses instead the personalities and thoughts of a coterie of exceptional geneticists." — The Sunday Telegraph, Adrian Woolfson
"An interesting book…clear and helpful." — Times of London, by Brenda Maddox, author of Rosalind Franklin: The Dark Lady of DNA
"Duncan raises some important questions…like whether tinkering with the human genome is monstrous or miraculous. Or as he puts it, "What if Frankenstein had…done the experiment right?" — Wired
"A daring, and dead-accurate portrait of what it takes. Top notch." — Po Bronson, What Should I Do With My Life?
"200 year old people? Emails sent by brain waves? [Duncan] sketches the (possible) future." — USA Weekend
"Illuminating profiles of some of our most brilliant scientists." — Booklist
"Fascinating…" — Moira Gunn, National Public Radio Talk'sTech Nation
"David Duncan explores the hyper-brave new world of biological manipulation. He takes us on a provocative, entertaining, and, yes, chilling journey…" — Erik Larson, The Devil in the White City
"Duncan deserves kudos…" — Wired News, from article, Bioscientists: Gods or Monsters? by biotech writer Kristen Philipkoski
"This collection of biographical studies…sparkle…[Duncan's] willingness to inject himself into the story in unorthodox ways offers some of the book's highlights…" — Publisher's Weekly
"This is a fascinating study on the role of personality in science…well written and very accessible." — Michael Krasny, Forum, KQED, Public Radio, San Francisco
"This is a book for every human being who read the science section over the past few years and thought, Holy #@&!!, are they going to do that? This book is exactly what we need: clear, down to earth writing on a cloudy, larger-than-life issues." — Mary Roach, Stiff: The Curious Lives of Human Cadaver
"A sparkling, fascinating book…Duncan brings alive the pioneering geniuses of this revolution – wit, warts, and all – and, without oversimplification, makes its issues, triumphs, and ethical dilemmas accessible and exciting." — James Reston, Jr
Masterminds is the paperback version of the hardcover book titled:
The Geneticist Who Played Hoops With My DNA
and other masterminds from the frontiers of biotech
(William Morrow/HarperCollins (USA)/Fourth Estate (UK)