Hernando de Soto: A Savage Quest in the Americas (Crown/Random House)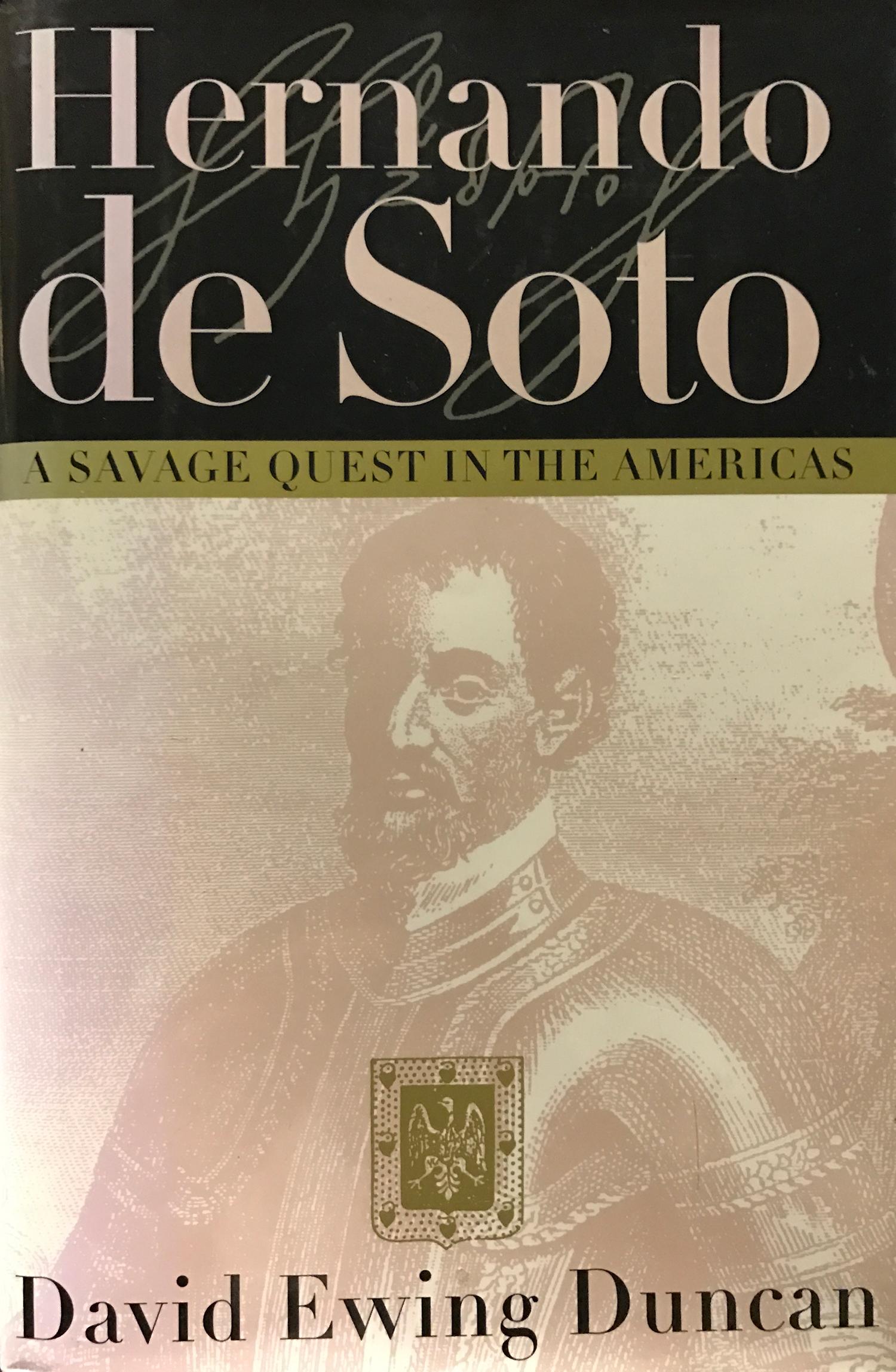 Hernando de Soto: A Savage Quest in the Americas
Crown/Random House
"…an admirable tour de force… the meticulous reconstruction of the fate of Soto's glittering Renaissance army of 600 men across 4,000 miles in a frustrated and exhausting search for an imaginary golden empire… [also a] tremendously enjoyable account of de Soto's early years." – Fernando Cervantes, The New York Times Book Review
"A man of thunder and passion, of towering ambition and brutal resolve, he epitomized everything epic, petty, grand and horrific about the conquista. To the Indians he conquered, he must have seemed an apocalyptic figure, a terrifying and utterly alien being who appeared from beyond the edge of the world to offer impossible ultimatums, backed up by an infernal killing machine." – From the Prologue
Read Chapter One posted by the Washington Post
---
Related Articles Written by David
"Mind of a Conquistador: Hernando de Soto's insatiable hunger for glory proved to be his downfall when he set out to conquer La Florida in 1539," American History, by David Ewing Duncan
---
Selected Reviews and Comments
"A study of Hernando de Soto and his legendary expedition across North America examines the life of the Spanish conquistador, from his role in the conquest of Peru to his ill-fated journey through the wilderness of the New World and his destructive impact on the native peoples of the region." – Amazon Description
"…a vibrant, gripping biography." – Publisher's Weekly (starred review)
"An epic adventure of conquest, brutality, and greed in the sixteenth century New World. Duncan tells this tale vividly, sensitively, and with respect for the historic sources… He forges a highly readable and authoritative biography." – Kirkus
"Soto moves across the rich tableau of Duncan's book as a complex but dynamic figure – soldier, conspirator, explorer, conqueror…– Jonathan Kirsch, Los Angeles Times
"…in these pages Spanish conquistadors are epic, hot-blooded individuals – audacious, ambitious, greedy and ruthless…" – Washington Post Book World
---
Excerpt from Chapter One: "Soto is Born"
"We start by imagining a wiry, muscular boy of perhaps eleven, riding a lean Andalusian stallion fast across a low, rugged range of mountains in south-central Spain--a hot, desolate place of rocks, gnarled oaks, sheep, goats, deer, rabbits, snakes, and the occasional mountain lion. Abruptly, the boy draws his sword and hacks viciously at a nearby sapling, neatly slicing off a branch. Turning again, he makes another cut, and another, slashing at the tree and shouting as loudly as he can a battle paean to St. James, a mythical hero of the Moorish wars and patron saint to Spanish warriors." Santiago! Cierra Espana!" Soto screams. "St. James! Close in, Spain!"
"Unfortunately, this conjured depiction of Hernando de Soto at eleven is all we have, given the lack of records to tell us what he was really doing as a boy. Nor do we know much about his birth, upbringing, family life, dreams, fears, favorite foods, best friends, length of hair, and other pertinent or impertinent details about the fourteen or so years he spent in Spain, from birth to early manhood--fully a third of his lifetime. However, because he was born the son of a Spanish hidalgo-a cross between a medieval knight and a country squire--and because of his later wealth and fame, enough information was jotted down here and there to construct a bare-bones outline of Soto's birth and childhood, and to trace back the modestly illustrious lineage of his family.
"Soto himself told us when he was born, though he shared his century's nonchalance about dates, giving two different years at different times. In 1535, just after resigning as the first military governor of Cuzco, he testified in a legal document that he was "thirty-five years old, more or less." A year later, in Spain, he described himself as "about forty." This suggests he was born in either 1496 or 1500, or sometime in between. I lean toward the later date, since a birth in the range of 1499 or 1500 makes him roughly fourteen years old when he left home for the Indies, the typical age when a boy became a man in sixteenth-century Spain, and when basic decisions were made by his family about his future. Particularly if he were, like Soto, a second-born son, who would not inherit any of his father's meager property; his family could not all ford to keep him any longer than necessary.
"Another reason I advocate the later date is Soto's reputation as a fast learner, and the abundant evidence of his meteoric rise once he bursts into the history books as a young Captain of the Horse in Panama. As early as 151 8-19 he emerges fully formed as a mounted fighter, literally dashing about and savagely hacking off the limbs (and heads, noses, and arms) of real people--namely, the Indians of Central America. A final piece of evidence for a birth in or near 1500 is a line written by Soto's sixteenth-century biographer, Garcilaso de la Vega. He firmly states that Soto was forty-two years old when he died on May 21, 1542--a contention that, if true, supports a birth year sometime around 1500…"